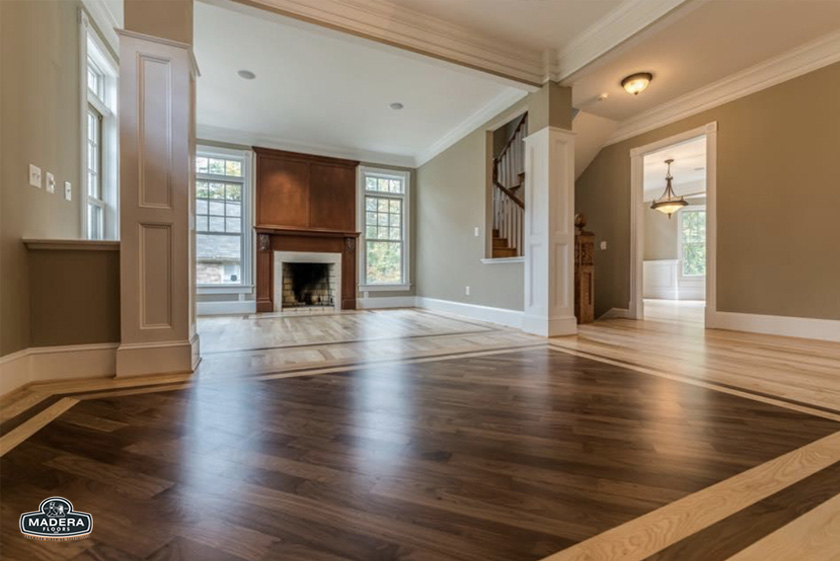 Custom Flooring Design
Custom Wood Floors are a medium of specialty floor coverings that includes, but not limited to these Types of Custom Wood Floors: Accents, Borders, Domestic Species, Exotic Species, Feature Strip, Inlays, Marquetry, Mixed Media, Medallions & Crest, Painted or stenciled, Parquet, Parquetry, Plank, Reclaimed & Recovered, Distressed, Specialty Products, Stained-Tinted or Colors.
Developed during the middle ages in Europe, elaborate designs, borders, inlays & medallions were crafted for significant buildings such as castles, & monasteries. Today these wood flooring styles are reflected in the modern day manufacturing and can be enhanced with something as simple as a strip border around the perimeter of the room or as ornate as a coat of arms in a foyer or a great room. Using exotic woods from around the world, these custom designs & patterns can add to and become the center focal point of any room. Giving each room a Custom-one-of-a-kind wood floor. Custom designs can give a homeowner a "one-of-a-kind" floor and is a wonderful way to put your personality and individual character in a home. The choices of pattern, design, exotic woods sources and an artistic flare can provide a limitless number of possibilities.