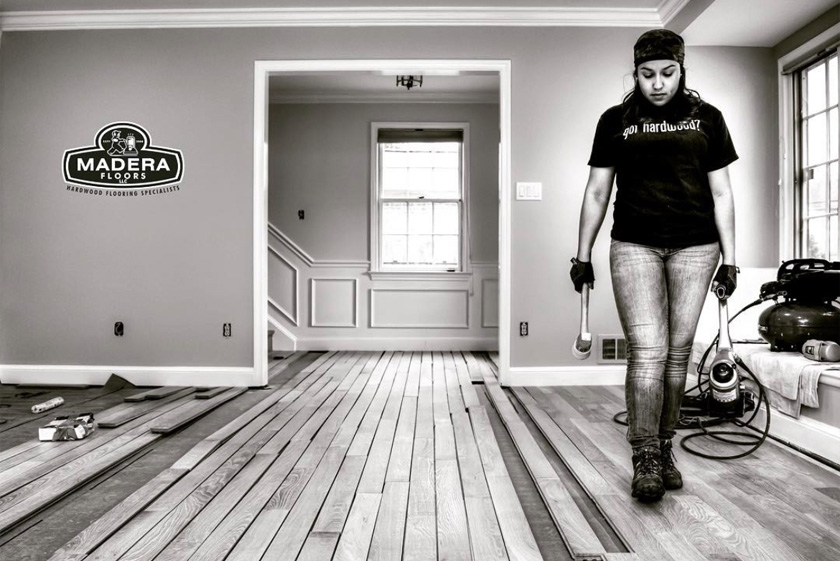 Wood Floor Installation
Hardwood floors are an investment that will last for a long time with the proper installation and care. There are different modes of installation for engineered wood strips, solid wood strips, and parquet. With all modes of installation moisture testing is imperative to ensure proper installation. Installation can be a painstaking process but we take pride in leaving your home or business looking as beautiful as we found it. Our expert technicians have seen every situation and are proficient in the three different types of installation for hardwood flooring.
Nail Down/Staple Installation
In this method we nail down or staple solid or engineered wood strips to the sub-flooring (usually either plywood or plank wood). The floor is done with random length strips. A few strips are placed down and arranged prior to fastening to ensure proper placement and tautness.
In this method we glue down engineered wood strips or parquet directly to the sub-floor. In these cases the subfloor is usually concrete, so we pay extra attention to moisture. With glue down installations, it is important to consider any kind of allergies and sensitivities to smell. We use an acrylic based glue which is more mild than some of the other options. Glue down installations can be walked on the next day and furniture can also be moved in.
In this method we glue together the tongue and groove of every plank and the floor floats over a foam cushioned padding. If the flooring has a locking system we can lock the pieces together without glue. This can be used with either laminate or engineered wood floor, but either way the flooring is pre-finished. Not all engineered surfaces can be floated. Floating installation can also be placed over sub-flooring of questionable quality unlike the other two modes. Also, floating floors are a great option if you have multiple layers of flooring and do not want to remove them all. With floating installation the wear layer is important to consider as the thicker the layer the more times it can be refinished. Generally, laminate flooring gives a hollow feeling underfoot with this mode of installation. Remember that floating floors expand and contract as a unit because the pieces are fused together. Allow for as much expansion area as possible.