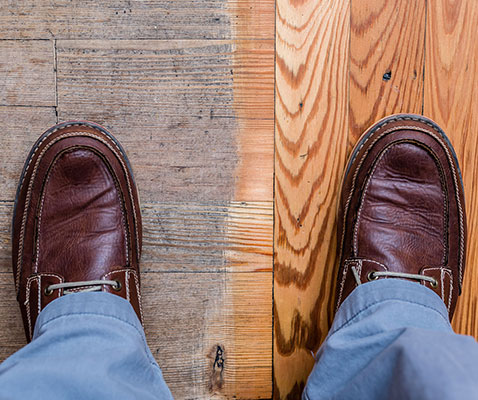 Wood Floor Refinishing
Refinishing and sanding your hardwood floors is necessary to preserve their quality and beauty. Any refinishing is done solely to enhance the woods natural color and protect it from the elements. The best time to sand and refinish your hardwood floors is when you move into a new house or apartment as all of the furniture, rugs, etc. need to be removed from the area during the process. Proper refinishing should last about 10 years. However, high traffic rooms will need to be done more often.
Pre-finished Hardwood Floors
These are the new main stream products in hardwood flooring. They can be acrylic impregnated, engineered, or solid. They have a tough factory finish, which is the main reason for its popularity. They are also extremely easy to install and eliminate the need for messy sanding. Most pre-finished floors done within the last ten years are urethane finished. Test this by placing a couple drops of water on an obscure area. If the area turns white after 15 minutes, you have a waxed finish. Older floors are likely to have shellac or varnish finishes. Unfortunately these do not work well with the newer urethane finishes and must be completely removed if you want a urethane finish. There is also likely to be some amount of aluminum oxide in the newer prefinished floors.
Unfinished Hardwood
This type of flooring comes in solid and engineered, and both must be job site finished. They come in varying lengths and widths. Sanding and finishing can take anywhere from a few days to a week depending on size, stain, and number of top finish coats. Generally the finishes are oil or water based. Our first priority is to protect the beauty of your home so whether you have finished or unfinished floors, we section off other areas and furniture to prevent sanding dust from spreading throughout your home. Our expert technicians also use dust containment systems to limit the amount of dust in the air. And with refinishing, it is important to have as little air flow as possible in the area as airborne particles can become embedded into the newly applied finish. Something as simple as foot traffic or turning on the air conditioner/heating system can kick up dust. So it is better to allow more time to dry to avoid problem areas in your floors.